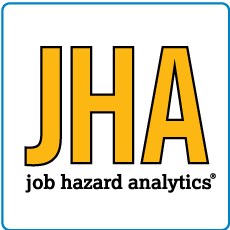 Job Hazard Analytics® launches new design and user experience with release 4.0
Knoxville, Tenn. – October 17, 2016 – Today, Job Hazard Analytics® announces a new brand design, marketing website, and product enhancements as part of release 4.0. "This is a new chapter for JHA", said President Terry Douglas. "In JHA, we have built a lean, web-based tool that is solely focused on helping safety professionals produce an efficient, scalable, and accurate job hazard analysis."
Job Hazard Analytics® was originally built by safety specialists who needed a digital way to create safety analyses that scale from one project to another. Over time, JHA has added features to reflect the changing needs of safety professionals. JHA's 4.0 enhancements include:
Enhanced design
e-Commerce licensing
Discounted pricing
Improved reporting module
Quick access to expiring JHAs
Enhanced navigation
Improved page loads
Company settings customization
Previous 3.4 enhancements included email handling and monitored functionality.
In addition to a new brand design, JHA now offers a 30-day free trial to new users. More information regarding JHA® can be found at www.jobhazardanalytics.com.
###
About Job Hazard Analytics® Job Hazard Analytics® is a web-based application specifically created to ensure that job hazard analyses deliver maximum worker protection, minimize risk exposure, and increase work quality and productivity. Job Hazard Analytics® is a product of Alliant Corporation